Flying a drone for commercial purposes? Chances are, you're going to want to make sure you've got drone insurance.
While not a legal requirement in the US, commercial pilots should have insurance anyway, both to protect against damage to your own drone as well as to guard against any damage your drone causes in the event of an accident.
Do You Need Drone Insurance?
Here's the short answer: Legally? Generally not. But as a responsible pilot? Absolutely.
Say you're an experienced drone operator but your drone experiences the phenomenon of the flyaway. You're photographing a neighborhood for a real estate gig in Hollywood, but your drone flies away, crashing into an electrical wire nearby and knocking out power to hundreds of residents for hours. You could be liable for the damage if uninsured. What if you lose control while flying your drone and it hits another person, sending them to the hospital? You could be liable for their medical bills — and looking at a potential lawsuit — if uninsured.
Note that the following guide applies to flying drones in the U.S. Other countries may require pilots to carry insurance for the drones. Proposed drone laws in Canada would require compulsory liability insurance of $100,000 for any drone over 250 grams (for context, DJI's smallest drone, the Spark, weighs 300 grams). And in Sweden, both recreational AND commercial operators are required to carry liability insurance.
History of US Drone Insurance Laws
A handful of lawmakers have fought — unsuccessfully to make drone insurance a legal requirement. California Assemblyman Mike Gatto in 2016 introduced a bill that would require drone pilots to hold "inexpensive ($1, or so) insurance policies sold at the point-of-sale." California Gov. Jerry Brown vetoed that bill, noting that drone insurance requirements on the state level would have "create[d] significant regulatory confusion by creating a patchwork of federal, state and local restrictions on airspace."
On a federal level, the Federal Aviation Regulation Part 107 does not require that drone pilots have insurance.
However, there are a few situations where drone insurance is required by law, contingent upon where and how the drone is flying. For example, the California Film Commission requires that drone pilots not only have their Part 107 license, but also have proof of insurance coverage in order to get a permit to film on state property. The CFC requires that coverage has a limit of at least $2 million.
Now are you ready to consider drone insurance? Here's what you need to know:
Commercial Insurance
If you're making money off a flying a drone, you're going to need a different type of insurance plan than if you are just flying for fun.
There are two types of drone insurance: liability insurance and hull insurance (and commercial drone pilots should have both). Liability insurance covers damage caused by the drone, while hull insurance covers damage to your drone, whether accidental or extending as far as theft.
Hull insurance for commercial drone pilots
Hull insurance means you'll be covered for damage to the drone itself. Insurance holders will typically still be liable for a deductible, so lower-cost drones likely don't need to be covered by hull insurance. Many drone companies also are starting to offer extended warranties, which would cover much of what is already covered by hull insurance, so in most cases it's not necessary. But if you've got a multi-thousand dollar, custom rig, hull insurance is likely worth it.
Liability insurance for commercial drone pilots
Liability insurance covers damage done by your drone, and typical insurance policies provide $1 million of coverage. Increasingly, some clients are even expecting the pilot to have $2.5 million of liability insurance.
Often, commercial clients will not allow you to work for them without carrying a large liability policy.
How much does commercial drone insurance cost?
Drone insurance operates very much like it would in any other industry, where insurance companies assess the risk of your business to determine the price.
Underwriting criteria for commercial drone businesses can include the type of drone being used, location, use-case and the pilot themselves. Ultimately, insurance rates vary based on a range of factors. A widely-used, proven drone like one of DJI's drones might be priced at a cheaper rate than a home-built drone. Drones flying in cities for real estate will likely cost more to ensure than drones flying over an empty field for agricultural purposes.
While drone insurance costs vary greatly, here's what the average drone insurance policy will cost in 2017, according to Drones Buy: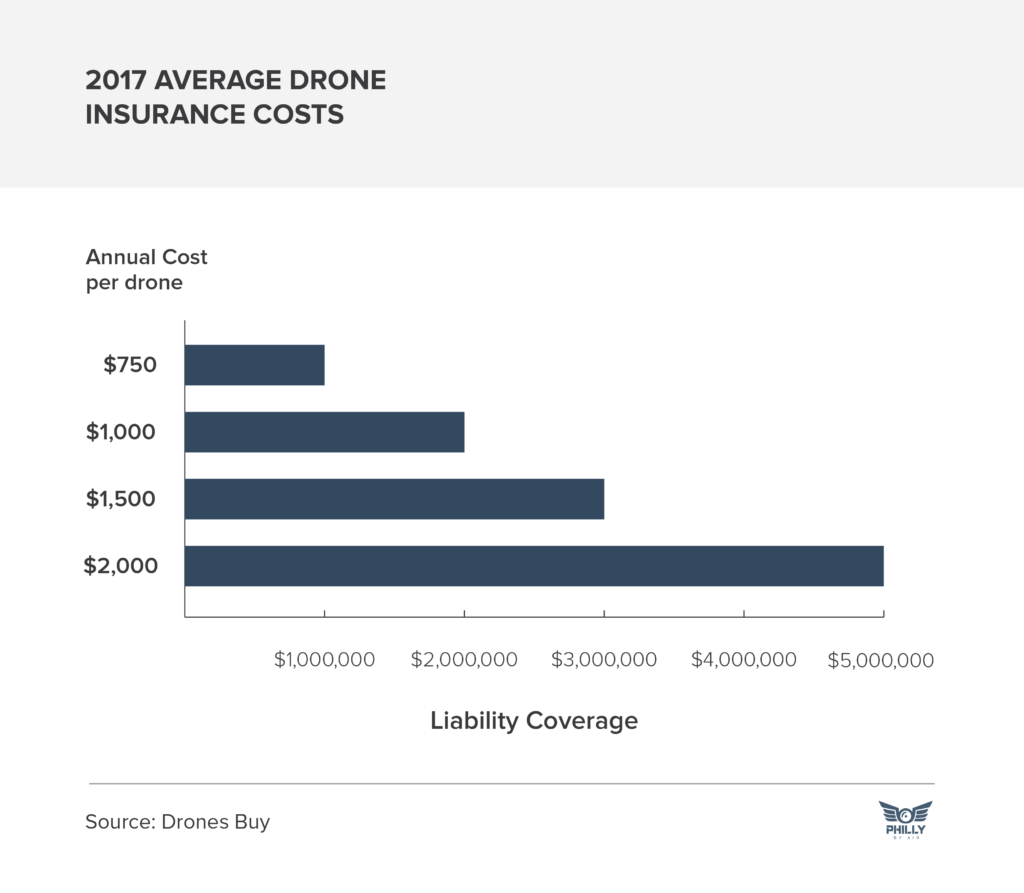 4 Tips for reducing your insurance rates:
Implement Training Standards – Besides having a Part 107 license (required for operating drones commercially), continue to take safety courses such as Unmanned Safety Institute's program to stay up-to-date in your drone knowledge. Document and have proof of all training done by your team.
Integrate Safety Standards Into Your Workflow – Reference safety checklists before and after flight, and develop a Standard Operating Procedure (SOP) for you and your team to follow.  The SOP should outline issues affecting drone operators including weather, interaction between the drone piloting team and airworthiness of the drone.
Log Your Flights – Maintaining a flight logbook is one of the best things you can do to keep your insurance rates low and protect yourself as a pilot. On the safety end, flight logs are important for proving fleet maintenance On the liability side of things, drones can protect you if someone accuses your drone of being somewhere or doing something it shouldn't.
Get Multiple Quotes – Not all insurance policies are created equal, so shop around for the best price that fits your specific needs
Recreation Insurance
Drone insurance doesn't necessarily have to be limited to commercial pilots. Recreational pilots likely also want to invest in drone insurance to protect against things like fire, theft or liability.
Homeowners insurance and your drone
If you are flying recreationally, your drone is considered personal property. That means your drone is most likely covered under your renters insurance or homeowners insurance policy, according to the Insurance Information Institute.  Note that a landlord's homeowners insurance will not cover renters, and standard deductions do apply. Additionally, if you use your drone commercially, it is considered a business use and is not covered by homeowners insurance.
Homeowners insurance policies typically cover: liability, no-fault medical coverage and theft or loss of a drone, and may be listed on your policy as 'RC or model aircraft.' The most common insurance policies are HO-2 (broad homeowners policy), HO-4 (renters insurance policy) and HO-6 (co-ops or condominiums) policies. Those three types of policies cover the "16 common perils," according to the Insurance Information Institute
If your drone experiences any of these 16 damages, it will be covered by most broad homeowners or rental policies
Fire or lightning
Windstorm or hail
Explosion
Riot or civil commotion
Damage caused by aircraft
Damage caused by vehicles
Smoke
Vandalism or malicious mischief
Theft
Volcanic eruption
Falling objects
Weight of ice, snow, or sleet
Accidental discharge or overflow of water or steam from within a plumbing, heating, air conditioning, or automatic fire-protective sprinkler system, or from a household appliance.
Sudden and accidental tearing apart, cracking, burning, or bulging of a steam or hot water heating system, an air conditioning or automatic fire-protective system.
Freezing of a plumbing, heating, air conditioning or automatic, fire-protective sprinkler system, or of a household appliance.
Sudden and accidental damage from artificially generated electrical current (does not include loss to a tube, transistor or similar electronic component).
Liability insurance for recreational drone pilots
If your drone causes damage to other people or property not belonging to you, you could be liable. The liability section of your homeowners insurance may cover you against any lawsuits involving injury or property damage caused by your drone.
No-fault medical coverage for recreational drone pilots
If your drone accidentally injures someone else, your homeowners insurance may cover their medical bills. This type of coverage will not cover injuries caused by your drone to you or your family members.
Theft or loss for recreational drone pilots
Was your drone stolen from your home? Did it fly away and never return?
Some homeowners insurance policies may cover drones.  However, in most cases, your deductible still applies, meaning a standard deductible of $500 may not be worth reporting for a DJI Spark, but more worth reporting if your Inspire is stolen.
Types of Drone Insurance
On-demand drone insurance, charged at a hourly rate
Rather than purchasing an expensive liability policy, on-demand drone insurance is becoming a popular option, especially for pilots who don't want to put down a lot of money upfront or who don't fly frequently.
One of the most popular sources for on-demand drone insurance is Verifly, which offers up to $5 million in drone insurance starting at $10 an hour.  To use it, pilots need to access Verifly's mobile app and their location and flight area and time, upon which they'll receive a real-time price quote. After entering in credit card information, pilots will be covered with a $1 million liability policy through their flight. Verifly does not cover hull insurance, so that will need to be purchased separately. Verifly policies are underwritten by aviation insurance provider Global Aerospace Insurance.
Benefits of on demand-drone insurance:
No crazy paperwork: Sites like Verifly are easy to sign-up for an don't require the pages upon pages of paperwork that typical liability policies come with. Pilots will be approved immediately, making it ideal for a last minute client as well.
Bill your drone insurance cost to a client: An annual liability policy can make it difficult to know exact how much that particular gig is costing you in insurance. But since pay-per-hour drone insurance is literally just that — paying per hour — you have a clear understanding of how much the insurance is going to cost you, making it easier for you to pass that cost onto the client.
UAS-specific liability insurance through a broker
Purchasing liability insurance through a broker is the most common practice for large drone companies or for small businesses that fly drones frequently. Brokers typically charge an annual fee for coverage, and operators will have to pay a deductible if they file a claim.
Popular brokers of commercial drone annual liability insurance:
Insurance through organization membership
Some organizations will offer complementary drone insurance as a perk of membership. The Academy of Model Aeronautics, which has a $75 annual membership fee, offers its members an insurance plan that it values at $1,000 per year.
Here's what the AMA's insurance benefit covers: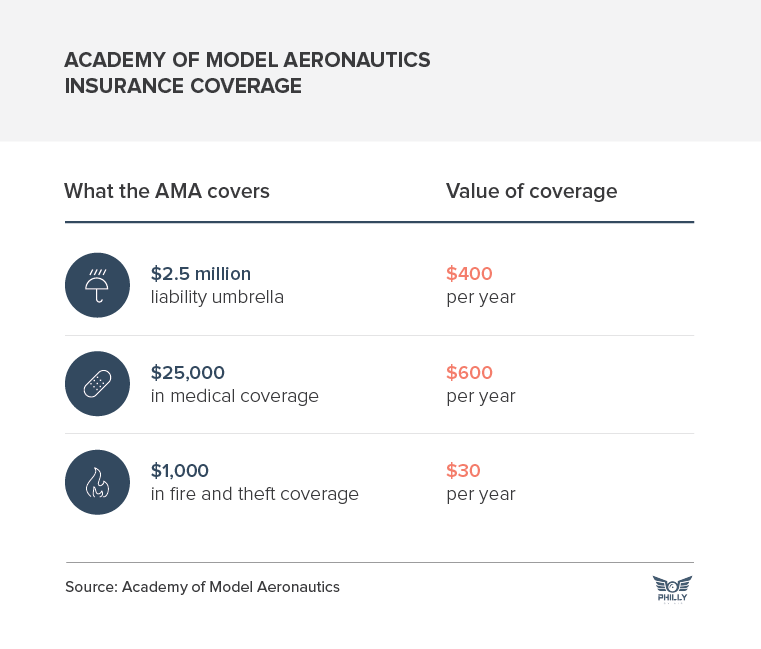 The Association for Unmanned Vehicle Systems International (AUVSI) also offers an insurance program for its members, called DroneGuard. The program, launched to members in 2016, includes protection for physical damage, third-party liability and personal injury. The DroneGuard program is underwritten through Global Aerospace.
Insurance through State Farm
State Farm Insurance offers drone insurance in most states, covered under Personal Article Protection Insurance as a "Miscellaneous Article," much like jewelry or other expensive photography gear.
State Farm's insurance typically runs at about $60 per year for $2,000 of coverage, with no deductible. The insurance covers accidental damage, like crashes, and theft that occurs anywhere in the world. It also covers instances where the drone flies away. However, the insurance does not cover normal warranty issues or any damage caused by the drone.
How to evaluate drone insurance providers
With so many options, it can be overwhelming to decide which drone insurance provider to go with. You want a company that has the money on hand to pay your claim when you need it, and will ultimately cover the damage your drone incurred.
Here are three things you should consider before purchasing a drone insurance policy:
Make sure the company you are working with is financially strong. Check A.M. Best Ratings or Standard and Poor to ensure your insurance provider is financially healthy.
Pay attention to customer service ratings: Even if your damages ultimately get covered, it might not be worth it if you've spent hours on the phone. Check your provider's customer satisfaction rankings on J.D. Power and Associates.
Price shop: You wouldn't buy a drone without shopping around for the best price. Do the same with your insurance policy, and get multiple quotes.
You found a drone insurance provider! Now what?
Your underwriter will likely ask you to fill out an application. Here are some things you can expect to be asked about:
# of flight hours
Maintenance log
Whether you are an FAA Part 107 Certified Remote Pilot
Location of flights (over people, over water, indoors, etc.)
Equipment
Personal Contact information
Level of training and experience
Previous accident history
Here is a sample application posted over at AviationI.com, which provides commercial drone insurance.
Other Types of Insurance & Extended Warrenties
While drone technology is improving and drone crashes (or flyaways) are increasingly less frequent, equipment insurance is actually becoming easier to come by.
DJI Care Refresh
DJI Care Refresh is a type of equipment insurance for a variety of DJI products — and the coverage is a huge step up from the standard warranty. While DJI's standard warranty guarantees repairs to the drone if a product defect is found, DJI Care Refresh covers accidental damage from a variety of potential mishaps, whether it's operator error, signal interference, a general collision and even water damage.
If the drone is damaged, the operator can request a replacement drone, which they can purchase for a greatly reduced fee. DJI's Care Refresh insurance plan is sold at an additional cost and valid for 12 months. The plan offers up to two full replacements at a smaller additional charge.
Here's how much DJI Care Refresh costs: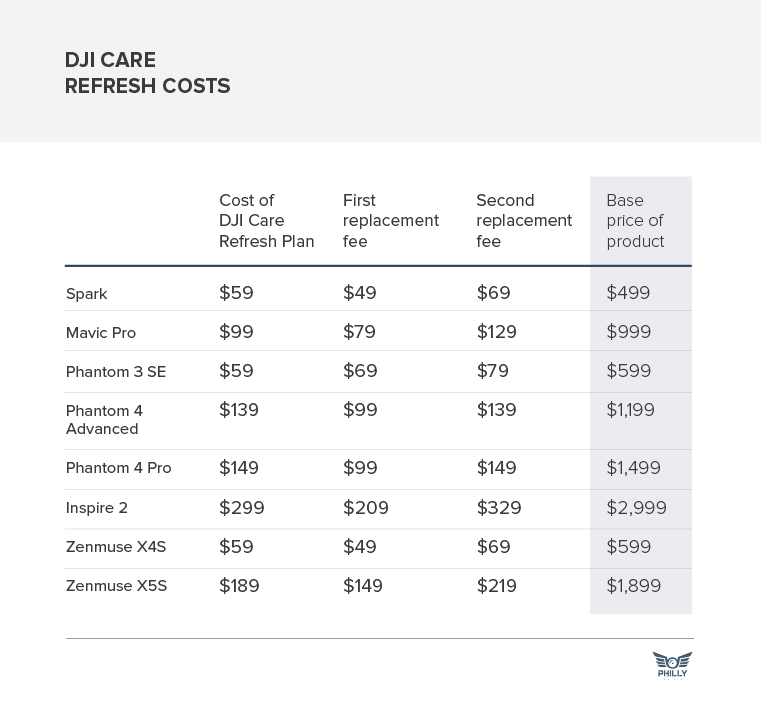 Most Common repair issues for DJI drones
Some drones are more prone to certain types of damage than others. Here are the most common types of repair issues you can expect to see on each drone, according to The Drone Co: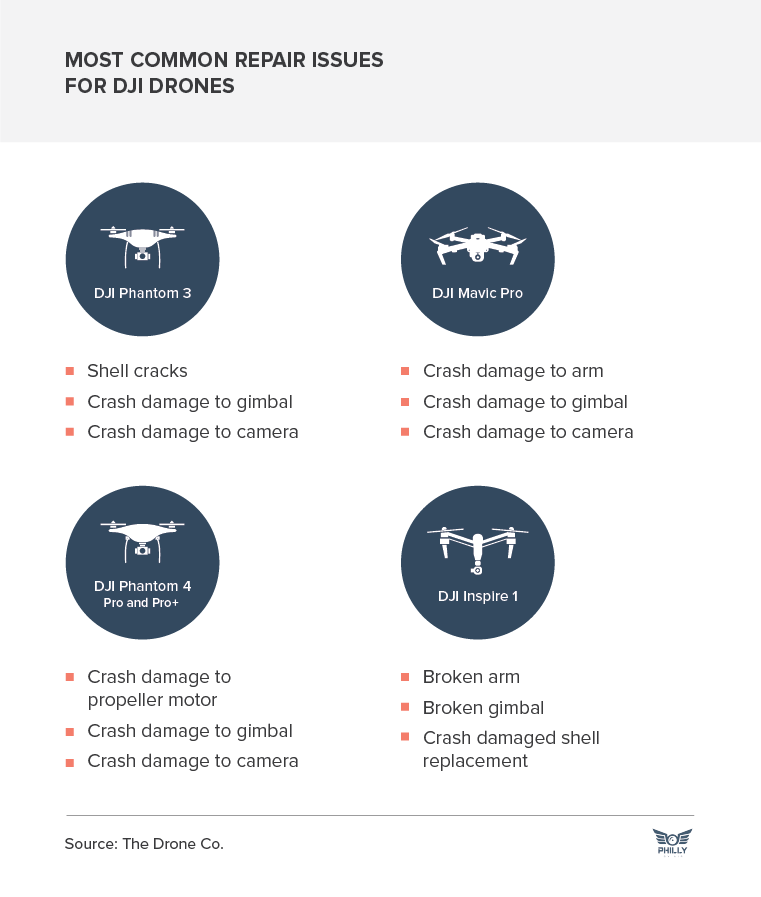 Source: The Drone Co.
Yuneec YES! Plan
For an additional fee, the Yuneec YES! Extends the standard warranty from one year to two years. The YES! Crash Forgiveness plan is similar to DJI Care Refresh, covering up to two non-warranty repairs.
Here's how much the YES! Plan costs: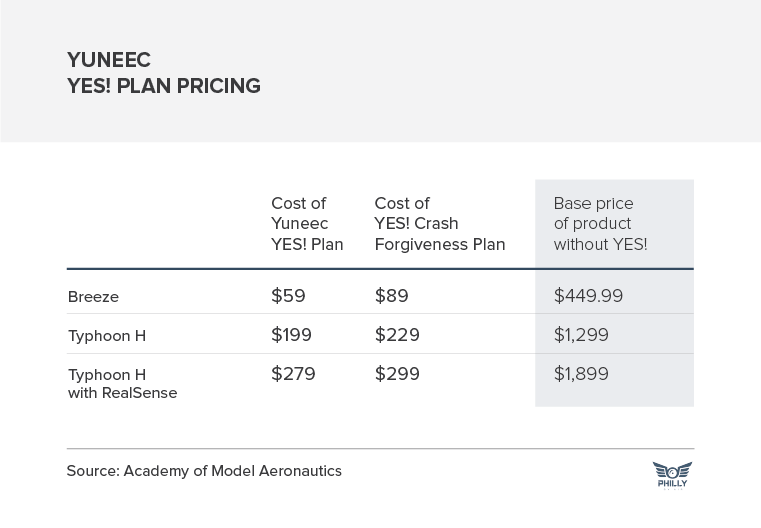 Both Yuneec and DJI's plans are a form of hull insurance only, meaning that liability insurance will also need to be purchased. Many pilots pair those with on-demand, liability-only insurance policies like Verifly.
The drone insurance industry is likely to continue to grow in tandem with the rise in the  broader drone industry. According to a 2017 report from Gartner, global market revenue for the drone industry is expected to increase 34 percent to reach more than $6 billion in 2017 and grow to more than $11.2 billion by 2020.